Thirty years later, Temple of the Dog still impacts many lives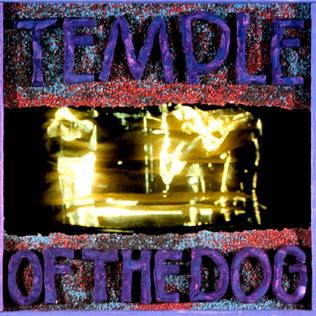 Music is a timeless piece of history that should never be forgotten. No matter how long ago it was written, it is still relevant now in so many people's lives.
This year marks the 30th anniversary of Temple of the Dog's first and only studio album, "Temple of the Dog." The album was released on April 16, 1991, through A&M Records. It was written as tribute to Andrew Wood, the lead singer of Mother Love Bone, who died of a drug overdose on March 19, 1990.
Temple of the Dog was a super group that consisted of Matt Cameron and Chris Cornell of Soundgarden, Jeff Ament and Stone Gossard both formerly of Mother Love Bone and Mike McCready and Eddie Vedder, who were both new to the Seattle music scene at the time. Ament, Gossard, McCready and Vedder would later form Pearl Jam and release 11 studio albums.
The album opens with the beautiful riff of "Say Hello 2 Heaven" which, along with "Reach Down," was written in response to Wood's death. Cornell clearly wrote both out of pure emotion and longing for a friend he once had.
The rest of the album was written by Cornell prior to Wood's death. "Hunger Strike," the most commercially successful song on the album, talks about refusing to steal from ones who are powerless in our modern society even though they have nothing as well. I interpret it as, everyone who does not have the privilege of decadence needs to work together instead of against each other if they are going to get anywhere and work against the oppression that the upper class puts upon lower classes.
Working against the upper class and resisting oppression from them seems to be a recuring theme throughout the whole album. I have noticed that a lot of the music from Seattle in the early '90s revolves around these themes and others similar to it. They can be seen further explored on "Pushin' Forward Back" and "Times of Trouble."
My favorite song on the album, "Call Me a Dog," brings the album to a slow with Cornell's beautiful lyrics and voice. Along with the lovely instrumental background, it is a truly wonderful song.
Later on in the album, you will arrive at "Wooden Jesus" and "Your Savior," which go hand in hand, beautifully contrasting each other. On one side with "Wooden Jesus," you hear a man wondering about his afterlife and asking the age-old question of, "Can I be saved?" On the other hand, with "Your Savior," you will see man resisting the pressure that devout Christians often put on non-believers to put faith in their God.
The album closes with "Four Walled World" and "All Night Thing." On "Four Walled World," you hear the powerful vocals of Cornell and the McCready's skillful guitar abilities. Then, the album ends on a softer note with "All Night Thing."
This has to be one the best albums I have listened to, and I would recommend it anyone and everyone. It is truly 55 minutes of pure perfection.
23ksteinle@usd489.com