Hays High FFA experiences changes
This school year, the Hays High FFA chapter has seen a lot of change with having a new sponsor, balancing skills and competitions and completing community service projects.
Nikole Cain, who is in her first year of teaching agriculture at Hays High, is the new advisor for the FFA chapter. She said she has had multiple obstacles to overcome in the months leading up to now.
"Most of the fall events have been canceled, or they are going to take place virtually," Cain said. "The advisors in our district had a meeting to discuss what this semester and year would look like, and unfortunately, for the rest of the fall semester, events will be canceled."
Career Development Events, or CDE's, are one of the staples to FFA, providing the building blocks to critical thinking and decision making during a competition, along with leadership and verbal communication skills.
The Northwest District fall events that have been canceled include dairy cattle judging and land judging, while the Greenhand Conference for freshmen, the Leadership School for par law and rituals and the Veterinary Science events will be virtual.
"We did try and talk about the spring semester up until March to see if we will try to take action on having competitions in the spring," Cain said. "We decided, as a collective, that we will wait to see how the fall semester will pan out to make a call for the spring. State competitions and state convention have not been yet decided on yet since both take place in May."
At the national level, the FFA organization has already planned to have the annual national convention virtually, as it normally hosts thousands of students and advisors every day during the convention.
"The Hays High chapter does have a two-year cycle for its members," Cain said. "One year, we attend the national convention, and the following year, we attend the Denver Livestock Show. With this year being altered, I have made the decision to have a national convention watch party for our members on the 27th of October to let our students enjoy the organization in all levels."
Another aspect that has changed for the chapter is doing community service projects, such as helping at the food pantry.
"We have had to change how we volunteer," Cain said. "We are volunteering at the food pantry twice in November since they have asked us to keep our help to only five members at a time."
                                                                                                                                                                     21csanders@usd489.com
About the Writer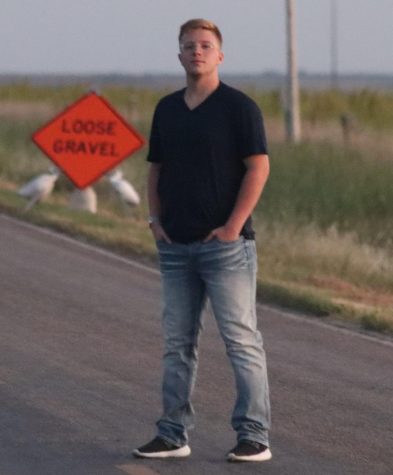 Cayden Sanders, Staff Reporter
Cayden is a senior this year, and this is his first year in newspaper. He is also involved in FFA. He loves to throw darts and take sports photography...