Chamber Singers begin recordings for virtual a cappella project
The key to success this year in the Music Department has been taking on a variety of alternative projects that allow its ensembles to continue to work together if Hays High were to go online.
This was the reasoning behind vocal director Alex Underwood teaching the Chamber Singers how to use Soundtrap — a web-based, collaborative version of music production software.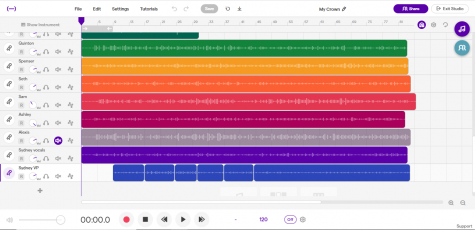 Underwood had previously commissioned composer Alan Williams to create an a cappella arrangement of "Crown" by Chika, intended to be performed for this year's Homecoming.
However, between other Chamber Singer commitments and the constant quarantining of students, the project had to be shelved for a time, due to the group being unable to balance the sound between the many vocal parts with so many members getting pulled out of class.
The lyrics of "Crown" ring true throughout our world today. Junior Samantha Vesper said that the theme of perseverance contributes to the song's idea of converting one's self-doubt into positive energy.
"This can be applied to our lives more than ever right now since it's becoming increasingly hard to find motivation," Vesper said. "It is really easy to just let the hard things in life drag you down, but the message in this song can help us all find our confidence and determination again."
Among all of the challenges the Chamber Singers have faced this year, Underwood is optimistically looking to the future of using Soundtrap as an educational tool.
While it may not offer the most robust experience in professional music production, Underwood said the simple interface and quick learning curve will at least help the students get their feet wet with what producing music looks like and how the systems operate, with each person recording his or her individual part.
"We don't spend time talking about how a music studio works, which is a significant element of our industry," Underwood said. "Financially speaking, there is way more of this going on than there is choir music or opera or classical music happening."
Over the past couple of weeks, the Chamber Singers recorded their first takes on Soundtrap to get used to the software after an in-class introduction.
Sophomore Spenser Mills-Kulmala said that she enjoyed figuring out how to use the program.
"It was really smooth," Mills-Kulmala said. "I didn't know how to start it at first, but then [senior] Alisara [Arial] helped me, and then it was just 'click record and do it.' It was super easy."
A release date for the final file has not yet been determined, but Underwood is theorizing how Chamber Singers could execute a visual element to pair with the audio.
It has been decided that the balanced product will be posted on the Chamber Singers Facebook page, as well as a copy on YouTube. Underwood hopes that Tribe Broadcasting will also be willing to help share the group's venture into "such a new frontier."
The freedom for students to execute multiple takes on their own time helps each of them put their best foot forward, but it can also be a grueling, time-consuming process, due to students often being their own worst critics.
"I hate listening to myself sing," is a common phrase that Underwood hears, and he said he believes that idea stems from the personal inclination to hear every flaw in one's work. He said that one of the more challenging parts of this process has been helping students see the beauty in what they create and how to be constructive in their personal criticisms.
"When do we start teaching students to say, 'Well… good enough!'" Underwood said. "How do we get them to accept something that maybe isn't their mental best, but by our standards, is still really excellent? Can we just settle for excellent, not perfect?"
21cleiker@usd489.com
About the Contributor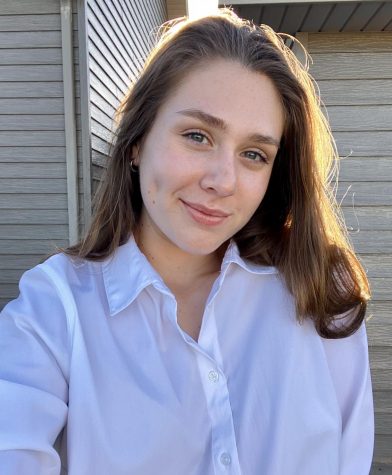 Caitlin Leiker, Assistant/Online Editor
Caitlin Leiker is a senior, and this is her third year in newspaper. She is involved in Chamber Singers, Musical, Spring Play, National Honor Society,...