Hays High offers wide variety of student clubs
At Hays High, there is a large selection of extracurricular clubs all the way from Anime Club to Tribe Anglers Club.
Anime Club, sponsored by Jolene Windholz, is a club that meets after school to watch and to talk about anime.
Art Club, sponsored by new art teacher Grace Splichal, is a club where you can express your creativity through art; the club meets after school in Room 506. They do have a winter art show at the Breathe Coffeehouse, and they go to FHSU in February for an art and design visit.
Book Club, sponsored by Kathy Wagoner, is a club that meets after school in the library, and they read different books together and discuss the books members are currently reading.
Catan Club, sponsored by Shaina Prough, is a club where they play the game "Catan" and teach people who do not know how to play how to play.
Chess Club, sponsored by Erin Holder, meets after school in the library, where they teach students how to play chess and then they go to tournaments in the winter.
D&D Club, sponsored by Erin Deenihan, is another club that centers on a game, "Dungeons & Dragons." In this club, they also teach people to play the game, then spend their meetings actually playing.
DECA, sponsored by Shaina Prough, practices leadership skills, like project management and consensus building; this club prepares students for careers in marketing, finance, entrepreneurship, management and many other things.
Environmental Club, sponsored by Dan Dickerson, is a club that go out to places like Cheyenne Bottoms and learn about the different species of animals and about conservation in schools.
FFA, sponsored by new agriculture teacher Nikole Cain, is a group of students that learns about leadership and career success through agriculture education.
Foreign Language Honor Society, sponsored by Lora Gallegos-Haynes, is a group of students who go to different places around the world for two weeks, and they learn about the culture of wherever they go. This year, they will be going to France, Germany and Spain.
Future Medical Professionals Club, sponsored by Lynn Zimmerman, is a club for students who have interests in a part of the medical field.
Gender Sexuality Alliance, sponsored by Erin Deenihan, Abby Gillan and Alex Underwood, is a club that gives students a safe place to meet, support each other and talk about issues involving sexual orientation and gender identity and expression.
Guitar Club, sponsored by Matthew Whitney, is a club that teaches students the necessities for playing guitar; around Christmas, they perform songs before school.
HHITA, sponsored by Chris Dinkel, is a club that builds and races an electric car at different rallies throughout the year.
Helping Hands, sponsored by Michelle Thacker and Jolene Windholz, is an organization that had run the Indian Grounds coffee shop, plus baked cookies around the main holidays, such as Thanksgiving, Christmas, Valentine's Day and so on.
Jana's Campaign, sponsored by Kaite Dinges, is a group of students who talk to others about how to build healthy relationships, create new norms and prevent relationship violence.
Knitting Club, sponsored by Kelly Ackerman and Lisa Renz, is a club that meets during PRIDE Time or after school to learn how to knit.
Leadership Team, sponsored by Troy Dale, is a selected group of juniors and seniors who give tours of the high school to freshmen and news students, and they plan activities and trainings to help freshmen succeed in high school.
Math Relays, sponsored by Dustin Dreher, is an activity in which five students compete in one of the following categories of math: Pre-Algebra, Algebra, Algebra I and Geometry.
National Honor Society, sponsored by Cheryl Shepherd-Adams and Kayla Brown, elevates students' and schools' academic, leadership and community involvement. Colleges have a way of seeing the academic and service commitment through a student's membership.
Pen Pals Club, sponsored by Luke Lundmark and Diane Mason, is a group of students that have selected elderly pen pals; they write letters to these citizens and get to know them and learn from them.
Red Cross Club, sponsored by Erin Deenihan and Jayme Goetz, is an organization that empowers students with knowledge and life-saving skills to help prepare our school and community for emergencies, and they also organize blood drives.
Scholars Bowl, sponsored by Cheryl Shepherd-Adams and Jennifer Olt, is an activity in which two teams compete head-to-head to answer questions from all areas of knowledge including history, literature, fine arts, current events, pop culture, sports and more.
Science Olympiad, sponsored by Beth Schiel and Lynn Zimmerman, is a competition in which students compete in 23 events pertaining to science, including earth science, biology, chemistry, physics and engineering.
Spirit Club, sponsored Lindsay Hart, is a group of students that come up with the theme days for home football and basketball games and add positivity in assemblies.
Student Council, sponsored by Alicia Brungardt and Kathy Wagoner, help to share students' ideas with the administration and faculty. They also organize school activities, including Homecoming, Indian Call and the Talent Show.
Trapshooting Team, sponsored by Chris Dinkel and Alex Ford, is group of students go out and shoot clay pigeons out of the sky as a competition.
Tribe Anglers Club, sponsored by Heath Meder, are students that participate in fishing together for recreation.
23mtippy@usd489.com
About the Writer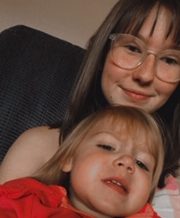 Maysyn Tippy, Entertainment Editor
Maysyn Tippy is a sophomore and second-year reporter for The Guidon. In her free time, Maysyn loves spending time with her amazing friends and family....