How to stay active in quarantine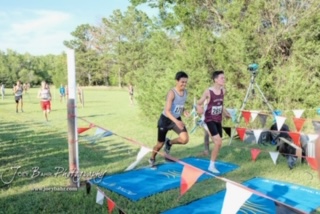 The COVID-19 or Coronavirus has caused the closing of many gyms and other outlets for people to stay physically fit. If you do not wish to go to one of the few gyms who stayed open out of fear of exposure, there are plenty of at home or outside workouts you can do.
Many Hays High student athletes have thrived in this area. Some coaches have taken it upon themselves to keep their athletes active, especially the ones who have had their sports cancelled. Jane Rorstrom, the HHS swim coach, has sent out a chain of emails just informing their athletes on what they can do to stay in shape and prepare for the next season.
"I hope to share encouragement for you and ideas with you on how to keep yourself in shape," Rorstrom said. "You'd be amazed at how much it will help your overall fitness."
Athletes from cross country and soccer have been working hard as well. These both are sports in which running miles in a single meet or game is not uncommon, so staying in shape is important, especially when their sports are in the fall. Sophomore Landon Viegra, a member of the cross country team, is among those trying to stay in shape.
"I've been staying in shape by running every morning and lifting with Gaven Haselhorst," Viegra said. "I've been doing this so that I can be putting in work while others are resting in the off-season."
Lifting weights is a popular alternative to sport specific workouts. Though gyms may be closed, many students have access to home gyms. Along with that, if you were in instructor Tony Crough's Weights class, he provided students with an app that had scheduled workouts that students could to if they had the given materials, which most home gyms do.
"I've done a lot of body weight exercises and some dumbbell work from my gym at home," freshman Trayton Roa said. "My motive is to stay in shape for my sports and just in general."
23mtaggart@usd489.com
About the Writer
Meg Taggart, Entertainment Editor
This is Meg, she's a sophomore at HHS, and this is her second year in newspaper. She loves all animals, besides mosquitoes, and spends her free time with...