Juniors Molly Eikenberry, Spencer Wittkorn, Jacob Maska to enlist in military
Junior Molly Eikenberry says goodbye to her older sister Lizzy as she enlists in the Army Reserve. Molly is ecstatic, but a little bitter that her sister gets to go first. That was almost a year ago, now Molly is getting ready to enlist on April 27 when she turns 17 and has her parents sign her over to the Army.
"As long as everything goes according to plan, shortly after that date I will be a soldier in the United States of America's Army," Eikenberry said. "And let me tell you, those words are music to my ears."
Eikenberry says that the respect she holds for the soldiers from before our time is more than words can describe.
"Those who fought for our country and all the freedoms we have today, will always have today, will always have a special place in my heart," Eikenberry said. "I have always been interested in American History and our government, so when I got old enough to realize I could be involved in it, I knew that was exactly what I wanted. I can't wait to be a soldier for the United States of America. It's my dream job."
"I was raised to love this country, in church, by my parents and grandparents, and last but certainly not least, the school system in Scott City, Kansas," Eikenberry said. "I will say that my eighth grade history teacher, Mr. Fox, ignited a fire in me. He taught in a way that made me fall in love with our country and our history. I seriously looked forward to his class every day. He was an amazing teacher."
Eikenberry said she knew she wanted to be a part of the military when she learned about the wars that the United States were involved in and how powerful the military grew to become.
"I think a lot of the time the military is misunderstood by civilians," Eikenberry said. "I wish more people looked into the amazing opportunities offered and how they could benefit from them while also being a part of something amazing. While the future is always a mystery and I can't be sure of what mine holds, at least I have a plan. That isn't something many high school students can say. I know exactly what I want to do and I have the utmost faith in the thousands of troops who move our country as much as I do."
The enlistment process is not terribly complicated to get started in, Eikenberry said. All you need to do is get in contact with a recruiter of the branch you are interested in and set up a meeting.
"A simple google search is sure to find the contact information you need," Eikenberry said. "Their job is to teach and inspire civilians of all types and plug them in. As intimidating as enlisting sounds, they walk you through every step and help you get where you want to be. All it takes is a call."
Junior Jacob Maska has also made the decision to join the military mainly because of the help they would give him financially for college.
"At first I was looking toward the Marines, but Molly invited me to one of the Army's physical training sessions," Maska said. "After I went that first day I haven't stopped going. I like how the military pushes you mentally and physically, along with all the educational benefits."
Maska said he made the decision after talking with his friends and family and weighing the pros and cons.
"I don't see myself playing college soccer and I can get my degree while I am on active duty in the Army," Maska said. "I liked the idea of not having any student loans to pay off after college, so all of these things eventually led to my decision."
If you want to enlist in the Army before you turn 18 you must have your legal guardians sign off on it and you must pass a medical evaluation along with passing the ASVAB test, Maska said.
Junior Spencer Wittkorn recently finished the enlistment process in Kansas City on Thursday, March 29.
"I traveled down to Kansas City to enlist," Wittkorn said. "I have actually gone down four times including this one, and each time I have done something different to further my enlistment process. I took the ASVAB the first time, had a full body physical the second time, had an exam the third time and this last time was to fully enlist."
Wittkorn's reasons for going into the army are much the same as Maska's.
"I decided to go into the military to help me pay for college," Wittkorn said. "My father was also in the military and I really respected that and I hope to give the same impression to my son when I eventually have one."
Wittkorn said that to enlist in the military a person has to travel down to certain locations to do a lot of paperwork as well as medical tests in that location.
"After all that, you will also swear into the military, which is what I did in Kansas City," Wittkorn said. "There is no specific date you have to go down there for. My recruiters just told me that I had to go that certain day because it was the fastest way to be able to enlist."
18drooney@usd489.com
Leave a Comment
About the Contributor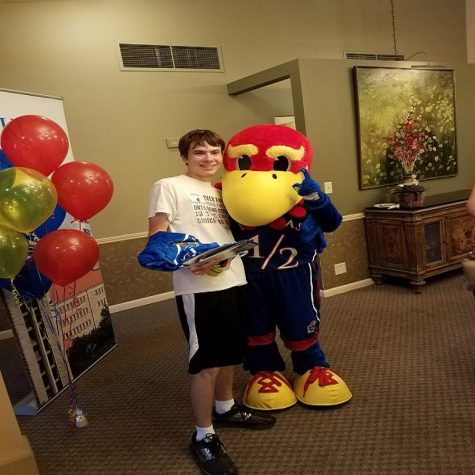 Dawson Rooney, Staff Reporter
This is Dawson Rooney. He is a senior and this is his first year in newspaper. Outside of newspaper he is involved in Orchestra, Chamber Singers, Web Team,...