13 questions with freshman Grace Rogers
Freshman Grace Rogers recently moved here because of her dad's job. Rogers spends her time figure skating and has been for the past decade.
What brought you to Hays?
"My dads job, he buys land for companies to put pipelines in the ground."
What places have you lived in before here?
"I've lived in Jerseyville, Illinois; Chatham, Illinois; and Perrysburg, Ohio."
How long do you typically stay in one place before you move again?
"It's usually around two years, but I was only in Perrysburg for a year and a half."
What is your favorite place that you have lived in?
"I don't have a favorite place. Every place I've lived in has a special place in my heart, and I still have very good friends in every place."
What's the hardest part of moving around so much?
"The hardest part is making new friends especially because I'm kind of quiet which I've learned to adjust to and not be so quiet."
Do you enjoy living in Hays so far?
"Hays is nice so far, but it's kind of boring."
How long have you been figure skating?
"I've been skating for 10 years."
What is the best part of being a figure skater?
"I love every aspect of skating. The thrill of jumping and spinning and going very fast. I love how not many people know figure skaters so it's unique, and I even love the nerves of competing which, for me is a lot."
What are some fun experiences you've gotten to have because of figure skating?
"I have met some great people through skating and have also met many of my idols and even skated with them, Olympian's and all, which was a dream come true."
Since Hays does not have an ice skating rink do you plan on not skating while you live here?
"Sadly, yes, I don't get to skate very much, but I will be able to go to Wichita over the weekends sometimes which I look forward to greatly."
Are there any unique challenges that come with being a figure skater?
"There are many. Skating requires the toughness of a football player and the flexibility and prettiness of a ballerina. You have to be able to get back up after falling which happens a lot. I've had bruises just about everywhere."
Is figure skating more of a hobby or is it something you want to continue in your future?
"Figure skating is my sport and passion. I plan to skate my entire life but, because of my first coach, who taught me a lot of things wrong, and my age, I wouldn't be able to go to the Olympics. Everyone thinks if you skate you go to the Olympics which is far from the truth."
What other interests/hobbies do you have?
"Skating has been my entire life so not being able to has been extremely hard, but I may start track here soon and other than that I like to shop, eat, and watch Netflix."
21abrooks@usd489.com
Leave a Comment
About the Contributor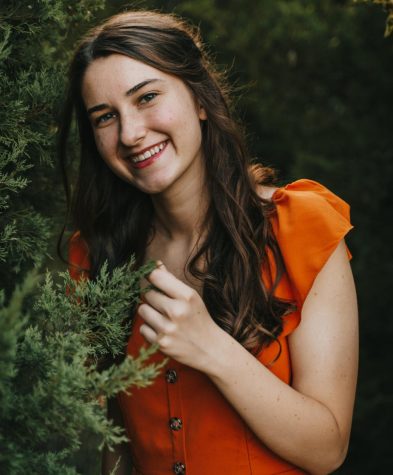 Allison Brooks, Multimedia/Photo Editor
Allison Brooks is a senior, and this her fourth year in newspaper. Outside of newspaper, she is involved in DECA, Scholars Bowl, National Honors Society...