Junior donates birthday to bring clean water to others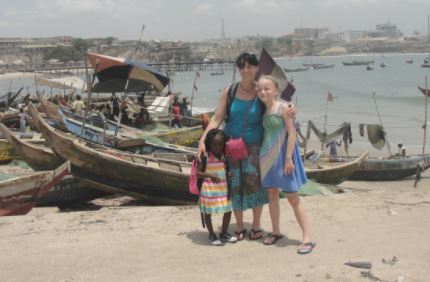 Hang on for a minute...we're trying to find some more stories you might like.
Imagine that your birthday is around the corner. Now, pretend that you want to donate your birthday to charity instead of getting presents. Finally, imagine doing this every year for your birthday.
Ever since middle school, junior Isabelle Braun has voluntarily donated her birthday money to an organization called Charity: Water. Charity: Water is a non-profit organization that helps provide less fortunate countries with clean drinking water. The organization builds wells in communities that need the water with money from private donors.
Money can come from anybody and for any occasion. However, the most popular way to donate to Charity: Water is by pledging a birthday. So far, $9 million has been raised for clean water through people's pledged birthdays.
"I started donating my birthday in 7th grade," Braun said, "Cumulatively, I've raised $3,168, and it all went to Charity: Water."
The first year she started donating, Braun raised $1,030 because it was more publicized. The amount she raised has been getting smaller, with her most recent birthday in 2016 raising $918.
Braun has chosen to donate her birthday because she has been out of the country and has seen other people's lives.
"I went out of the country to pick up my adopted sister, and I saw what third world countries go through," Braun said. "When I was there, we drank out of water in bags. They would package them and then sell the water bags. I wanted to help because most of the people in the United States don't know what it's like in those types of places and something needs to be done."
Braun's charity money has reached all over the world and helped many lives. There have been water wells completed in Mozambique, Mali and Cambodia, serving a grand total of 1,016 people. The number will continue to rise because some projects are not done yet.
"Some wells are still being built like the one from my previous birthday," Braun said. "It takes 21 months to complete each project, and I'll get notified when it is completed."
For some students, getting nothing for your birthday can be off putting. However, Braun doesn't mind, she prefers donation money to presents because she doesn't know what to do when given gifts.
"I've never known what to do on my birthday," Braun said. "This way, it's easier."
Braun's goal this year is $1,200 which will give water to 40 people and will end at the end of the year. To donate, go to Braun's campaign on Charity: Water.
"This isn't my highest goal, but last year, I didn't hit it," Braun said. "I would really appreciate people donating because this is something that I'm really passionate about."
19sperryman@usd489.com