PRIDE Times celebrate holiday season, semester end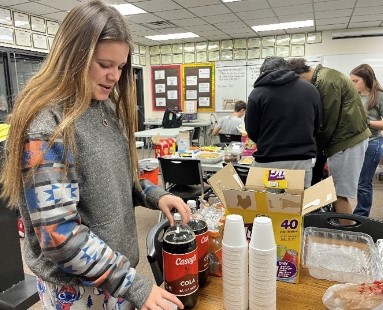 While normally quiet, the classroom is full of sound and movement. Smells of sugary snacks fill the room as the teacher opens another container of brownies. Students crunch on chips dripping with cheese dip and laugh as they talk with the people at their tables. The last cookie is snatched up, and Christmas music blares from a portable speaker.
As Winter Break neared, some PRIDE Times celebrated with their own parties. Students volunteered to bring different foods and supplies to create a spread of various sweet and salty snacks.
Freshman Seth Burkholder volunteered to bring food on Dec. 9 for his party in teacher Jessica Augustine's PRIDE Time.
"I brought a fruit tray," Burkholder said. "I enjoyed my party because of all the food."
Freshman Scarlett Hermann, who is in teacher Codi Fenwick's PRIDE Time, said she was looking forward to the party her class had.
"Everyone loves our PRIDE Time parties because our teacher makes good food," Hermann said. "And, it's kind of like a breather for kids to just relax."
While not all PRIDE Times had end-of-semester parties, there are still many that did. For example, teacher Cheryl Shepherd-Adams's PRIDE Time had its party on Dec. 16.
"I like to think of it as an opportunity to share food and fellowship," Shepherd-Adams said.
26lbutler@usd489.com & 26ddixon@usd489.com
Leave a Comment