Student body responds well to online learning
The rapid spread of COVID-19 has caused all Kansas students to begin continuous learning. The immediate change in education style has affected student motivation when it comes to completing their schoolwork.
Seniors, having the rest of their last year of high school being moved online, have been affected the most by the situation.
However, senior Dylan Warner said he feels more motivated doing online classes now than he did in school before the shift.
"I'd say that it's easier for the most part," Warner said. "I pretty much just work ahead so I don't have to worry about anything. I would have to say that nothing has been a challenge so far."
Members of the other classes seem to agree with the idea that online school has been easier, and they seem to feel more driven.
"My online schooling has been better because most of my classes give me the opportunity to work ahead, so I can finish them in two weeks," sophomore Karson Russell said.
Junior Alexis White said that she feels the workload for her classes is a lot lighter while learning online.
"I have been able to find a new routine that works for me," White said. "I now have more time to do homework, and since everything seems easier, I have more motivation to finish my work sooner rather than later. This gives me more free time, which is really nice."
Despite all the positive feedback, there have also been students who are struggling with the change.
Along with losing her regular sleep schedule, freshman Gilda Alan also feels that she has lost her motivation to complete her daily schoolwork.
"I'm really behind on everything, and I don't feel like doing anything," Alan said. "Now, I don't have teachers to help me along with it."
Junior Madison Holloway said that online learning has been easier than trudging through a full day of classes in person, and she wants to offer her thanks to the staff for recognizing how difficult the drastic change has been for the students.
However, Holloway said the most challenging thing about the current education situation is the fact that she is at home.
"I've conditioned myself, like many other students, to think of home as a place of rest and peace, so it's super hard to find the drive to complete a whole day's worth of schooling at home," Holloway said.
While everyone is experiencing their ups and downs with the new system, the response from the student body has been primarily positive.
"The online learning is definitely difficult to get used to, but knowing the situation isn't permanent makes it a bit easier," White said.
21mmcbride@usd489.com
About the Contributor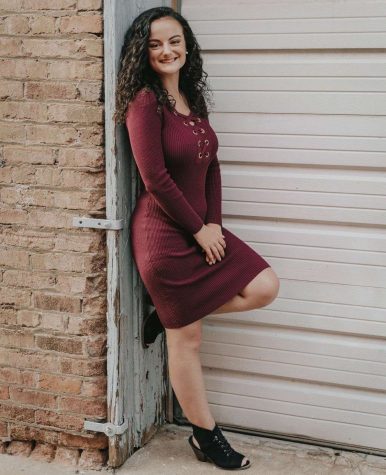 McKena McBride, Assistant/Online Editor
McKena McBride is a senior, and this is her third year in newspaper. She is involved in tennis, StuCo, National Honor Society, Leadership, Yearbook, Red...