2020 Spring Play cast prepares for first student matinee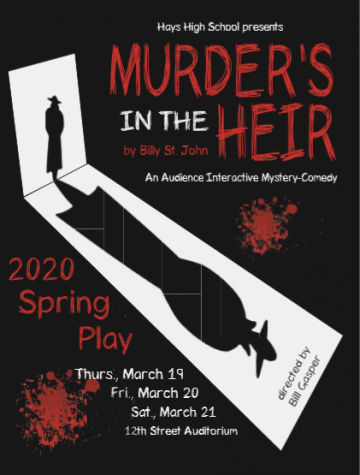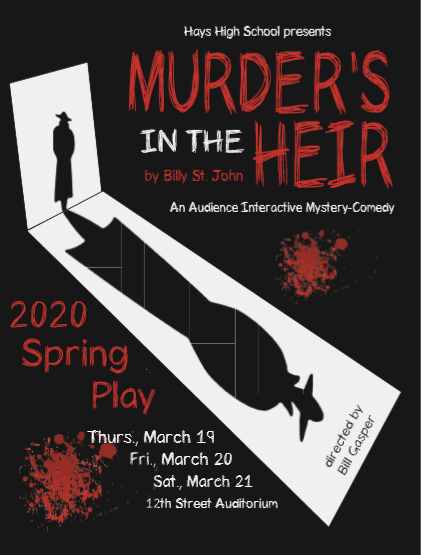 This year's Spring Play cast has been refining their performance of "Murder's in the Heir" for their first-ever student matinee for Hays Middle School on the morning of March 11.
The performances will take place at 7 p.m. on March 19-21 at 12th St. Auditorium. In order to book your tickets in advance, visit https://www.ticketsource.us/hays-high-school
Holding matinees for the community's younger students has been a tradition for Musical in the fall, but due to conflicting schedules and state assessment preparation in the spring semester, the Spring Play cast has not had the chance to showcase their hard work in a student matinee until this year.
"I've always wanted to do a matinee ever since I took over Spring Play," director Bill Gasper said. "There have been a few plays that I thought would be good for matinees, and I thought this year would be an excellent opportunity for the middle school."
"Murder's in the Heir" is a classic who-done-it comedy that features a variety of eccentric characters who all have the motive to kill. At the end of the first act, the audience members cast their votes on who they think committed the murder.
During the second act, the audience continues to play "armchair detective," weeding through alibis and picking up on clues until the murderer is revealed.
Gasper said one of the most difficult parts of "Murder's in the Heir" is the fact that there are nine different endings for the audience to choose from. The cast won't know who will play the murderer until the audience casts their votes each night.
"The ending is a bit worrisome because there are so many people doing it, so we have to make sure we get that nailed down," Gasper said. "That's the only thing I'm really concerned about."
This year's show also incorporates atmospheric elements like eerie music and lighting to help bring the dark, stormy setting to life. After all the technical issues are worked out, Gasper said he's looking forward to a successful matinee.
"It's something we haven't really done, as far as a murder mystery," Gasper said. "'Who-done-it' is one of my favorite genres– not only to watch, but to read about –so I'm excited. I think people are going to enjoy the aspect of trying to figure out who the murderer is, or if they voted correctly. It's going to be a really entertaining show."
21cleiker@usd489.com
About the Contributor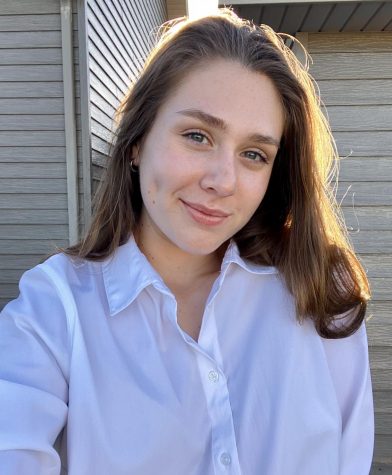 Caitlin Leiker, Assistant/Online Editor
Caitlin Leiker is a senior, and this is her third year in newspaper. She is involved in Chamber Singers, Musical, Spring Play, National Honor Society,...