Journalism staff competes at state competition, takes second in sweepstakes
Sixteen students qualified for the state journalism competition held at Kansas University campus on May 4.
Five students competed with online entries, juniors Emma Pfannenstiel and Paige Polifka-Denson and seniors Brittani Park, Brooke Pflaum and Kaitlyn Brown.
Those who participated in on-site contests include seniors Isabelle Braun, Scout Perryman, Alyssa Underwood, Jacob Maska and Emily George; junior Allison Hillebrand; sophomores Caitlin Leiker, Allison Brooks, Anna Brull and Alicia Feyerherm.
Polifka-Denson, Pfannenstiel and junior Madison Weber attended the contest, but did not compete.
After receiving 23 points from the entries that placed, the journalism staff took second in the 5A sweepstakes. This was the first 5A state competition in four years.
"I'm super excited that we were able to tie with Salina in the 5A division," Braun said. "I think we did really well as a group, and I'm glad we could do this one last thing for Gasper."
While at the competition, the Guidon staff accepted the All-Kansas award for the newspaper.
"I did not really know what to expect, because the competition is tougher, since we were competing against very large schools," instructor Bill Gasper said. "For us to be able to come out and score 22 points in the competition, it was very outstanding for our students. I am so very proud of them."
Digital Entries:
Multimedia Storytelling:
Second – sophomores Alicia Feyerherm and Allison Brooks
Online Photo Gallery:
Honorable Mention – senior Brooke Pflaum
Honorable Mention – senior Alyssa Underwood
Headline Writing & Design:
Honorable Mention – senior Isabelle Braun
Yearbook Layout:
First – senior Alyssa Underwood
Infographic:
Honorable Mention – senior Brittani Park
On-Site Entries:
Yearbook Sports Writing:
Third – senior Jacob Maska
Honorable Mention – sophomore Anna Brull
Feature Writing:
Third – junior Allison Hillebrand
Yearbook Copy Writing:
Third – sophomore Caitlin Leiker
About the Contributor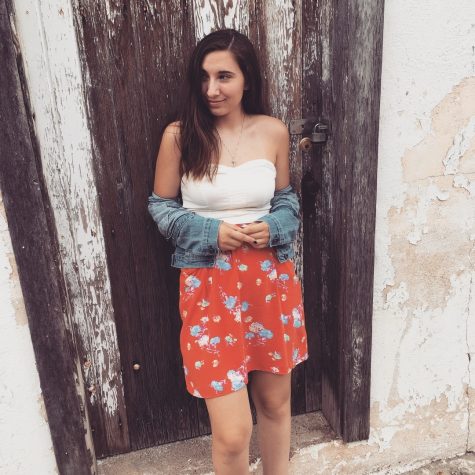 Allison Hillebrand, Editor-in-Chief
Allison Hillebrand is a senior at Hays High. She is involved in the newspaper, DECA, orchestra, leadership and National Honor Society. She will be attending...