StuCo meets on Oct. 24 to discuss upcoming dodge ball tournament, talent show, Dillon's fundraiser, pull tab competition
Student Council (StuCo) members met in the cafeteria during seminar on Oct. 24 to discuss upcoming events and sign up for committees relating to those events.
One upcoming event is a dodgeball tournament with proceeds going to the Ellis High School principal who was diagnosed with leukemia over the summer.
The tournament will take place on Dec. 15.
High schools from surrounding areas such as Thomas Moore Prep, Ellis and Lacrosse are invited to participate.
StuCo is working on getting sponsors for each dodgeball team.
"Sponsors will take care of the t-shirt cost for each team," instructor Alicia Brungardt said. "There's also a team entrance fee that the students will pay for."
There are requirements for each team.
"The teams are made up of 12 people," senior Connor Teget said. "10 play at a time. The teams are co-ed, so five girls and five guys or six guys and six girls."
However, your team does not have to be made up of people all in the same grade or even from the same school.
"If you have kids from TMP or Ellis and you want them on your team you can do that," senior Peyton Thorell.
Senior Kallie Leiker discussed the pull tab competition for the Ronald McDonald House.
The competition is between Hays High, Plainville, Great Bend, TMP, Ellis and Lacrosse. The school that collects the most pull tabs receives a $1000 donation to the school.
One change that StuCo is making this year is instead of holding the talent show in the spring, it will be held in January.
"We are moving it up to January because everyone is so busy during the spring," senior Shyann Schumacher said.
Audition times will be announced closer to the talent show.
"This year I want the talent show to showcase all the talents Hays High has to offer," Schumacher said. "I want to get as many students involved as possible."
Finally, the Dillon's fundraiser was discussed.
"For every adult that signs up, StuCo gets $5," instructor Alicia Brungardt said. "It costs the adults nothing to do this. All they have to do is go into their Dillon's account and identify us as the charity of their choice. Dillon's then gives us a percentage of their sales as well."
21afeyerherm@usd489.com
About the Contributor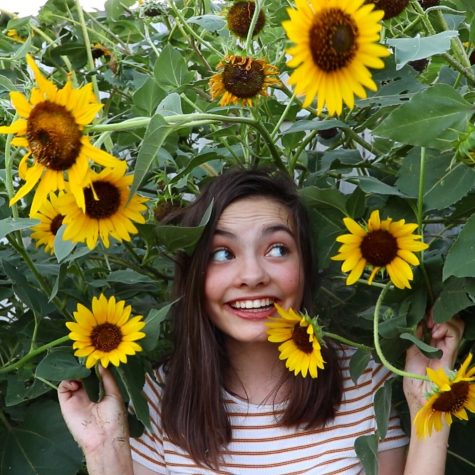 Alicia Feyerherm, Online Editor-in-Chief
Alicia Feyerherm is a junior, and this is her third year in Newspaper. She is very honored and excited to be in the role of Online Editor-in-Chief this...