StuCo officers elected for 2018-2019 school year
Elections for StuCo officers were held May 1 in the Lecture Hall. Officer positions were given based on three different factors.
The first factor was an application. Students interested in being a StuCo officer turned in an application to Mrs. Brungardt. The application included a sealed letter of reference from a teacher of the student's choice.
Junior Madison Flax chose Abby Gillan for her teacher reference.
"I had Mrs. Gillan complete my teacher reference form because I like her way of teaching," Flax said. "She keeps the class constantly learning new information and always has new ways of doing homework assignments. She keeps the class entertained and focused. Her style of teaching impacted me on wanting to be an officer because I want all who is involved with StuCo to be constantly entertained with new ideas and never bored or unsatisfied with projects."
The second factor was an interview. After reviewing the applications, some students were contacted to have an interview. The interviews were held in the library with Alicia Brungardt and Kathy Wagoner.
Junior Kallie Leiker felt comfortable with how her interview went.
"I think it went fairly well, because I spoke my mind and explained why I want to lead and what I wanted to do with StuCo for the upcoming year," Leiker said.
Brungardt knew what characteristics were needed for a StuCo officer and searched for those traits in the applicants.
"We look for people who have been involved in StuCo and other activities," Brungardt said. "StuCo officers must be reliable and able to work on a team.  Additionally, they don't always get recognition for their efforts.  Therefore, we want people who express an interest in improving HHS and who want to focus on making our school a place where people feel as though they belong to something good.  The kids who are officers work hard to make activities come to fruition. A positive outlook is also key to being successful as an officer."
The final factor was student elections. Candidates prepared a short speech about why they wanted to become an officer and then StuCo members voted on which candidate they believed deserved the position.
None of the factors were more important than another. The weighting was broken evenly, giving each factor a third of a candidate's score.
The officers are as follows (grades are as of next year):
Executive President— senior Peyton Thorell
Executive Vice President—senior Shyann Schumacher
Secretary—senior Kallie Leiker
Publicity—senior Payton Selby
Treasurer— senior Connor Teget
Tech officer—senior Madyson Flax
Senior class president—senior Isabelle Braun
Senior class vice-president—senior Savannah Schneider
Junior class president—junior Maddie Lohmeyer
Junior co-vice-presidents—junior Madalyn Waddell and junior Paige Beamer
Sophomore class president—sophomore Kassidy Winter
Sophomore class vice-president—sophomore Alicia Feyerherm
Freshmen officers will be appointed before school is out.
Brungardt said she wants to encourage those who applied for an officer position but didn't make it to continue to stay involved in StuCo.
"We were fortunate to have so many students showing interest in StuCo officer positions," Brungardt said. "It was tough to make our choices.  However, students can be actively involved in StuCo as a member too.  We do a lot in the course of the school year.  We are much more than just dances, but we love to host those events too."
21afeyerherm@usd489.com
About the Contributor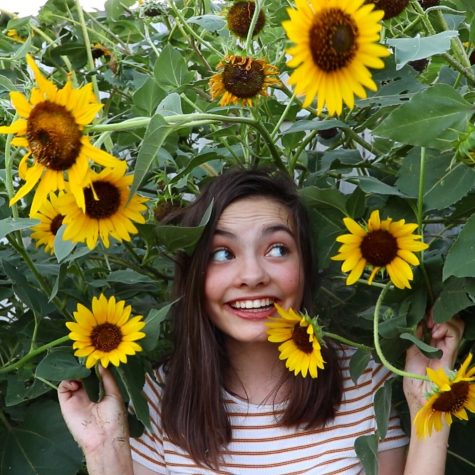 Alicia Feyerherm, Online Editor-in-Chief
Alicia Feyerherm is a junior, and this is her third year in Newspaper. She is very honored and excited to be in the role of Online Editor-in-Chief this...