Two freshmen win first place at talent show
Hang on for a minute...we're trying to find some more stories you might like.
Many students look forward to watching the talent show every year. It is a way for students to cheer on their peers or showcase their own talents.
After the news that there may not be a talent show, there were students who were upset.
"I was sad because it is a school tradition that we have a talent show, and I really didn't want it to be cancelled," Junior Isabelle Pfeifer said. "It is one of my favorite things that I look forward to at the end of the year."
Next school year Student Council instructor Alicia Brungardt is planning on moving the talent show to earlier in the school year.
"We struggled to get acts to put this event together," Brungardt said. "This time of year is hectic, and we have decided that we will move the event to earlier in the school year next year to increase student involvement."
Despite the initial lack of students auditioning, they eventually got five acts to perform at the talent show.
With performing in front of the whole school comes preparation, so that nothing goes wrong.
"Our practices were pretty laid back, until two days before the performance," freshman Alisara Arial said. "That's honestly when everything actually came together."
The acts that performed were senior Travian Price, senior Alexie Chairez, a duo of juniors, Isabelle Pfeifer and Jessica Straight, a duo of freshman, Alisara Arial and Calista Isbell, and a group of juniors Calvin Duden, Garrett Cole, Jackson Stanton and Spencer Wittkorn.
Performing in front of all your classmates and teachers can led to getting very nervous.
"At first, I wasn't very nervous," Arial said. "But the hour right before actually performing, it hit me that I was supposed to perform really soon. Right then, I became really nervous."
Although performing can be a daunting task for some, Duden was not fazed by it.
"Heck no, I wasn't nervous," Duden said. "I was ready to crush that performance."
After all the acts performed, a group of senior girls performed a dance routine to songs from the movie Pitch Perfect.
Then, the winners were announced. In third place was Duden, Cole, Stanton, and Wittkorn. Second place went to Pfeifer and Straight. Finally, Arial and Isbell won first place.
The prizes for the top three spots were a s'mores gift package, a summer fun package and a technology package.
"I was really surprised to win," Arial said. "None of us were expecting it. It was definitely an awesome show, and I think everybody did well. I want to thank my friends and teachers for being encouraging to me, without them I might not have done it."
21abrooks@usd489.com

About the Writer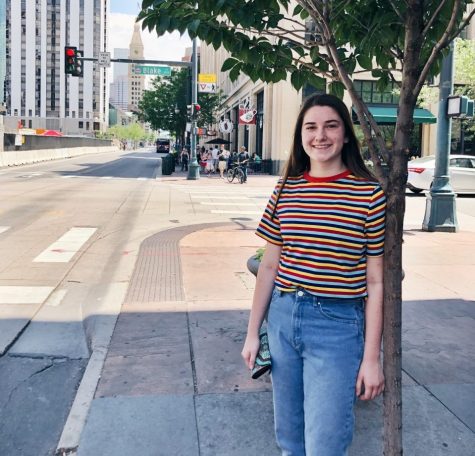 Allison Brooks, Staff Reporter
Allison Brooks is a sophomore and this is her second year in newspaper. She is involved in tennis, scholar's bowl, and student council.