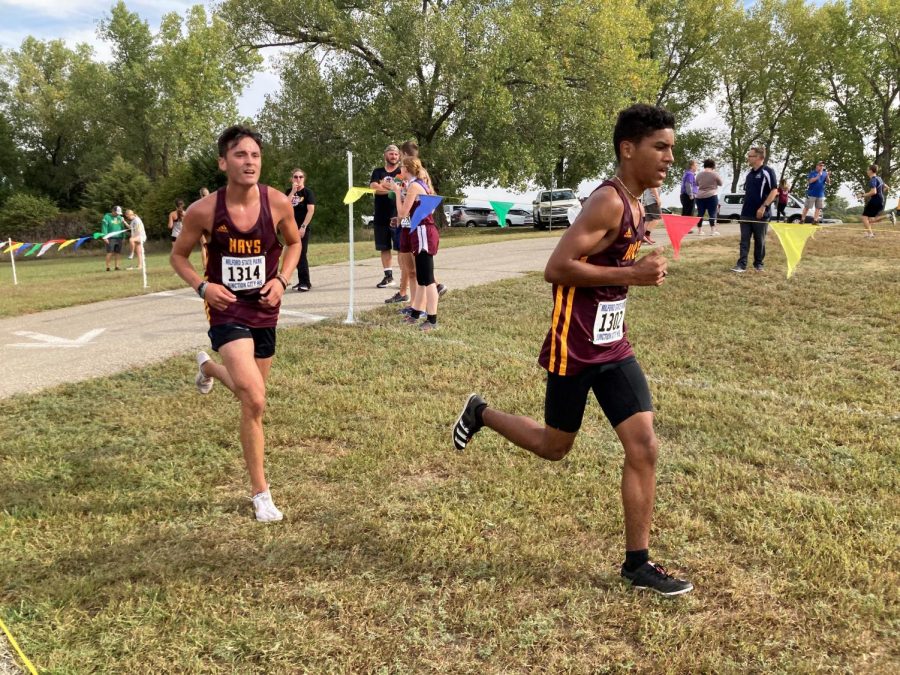 Ryan Schuckman
Cross country competed in the Western Athletic Conference tournament held at Dodge City on Thursday, Oct. 14.
The girls varsity team placed third behind Great Bend and Dodge City. The boys varsity team placed fourth. Although all five WAC teams competed in the boys competition, Great Bend was unable to log a team score because of a lack of athletes.
"The course was very well designed and challenging," sophomore Elijah McCullough said. "It was difficult because it has long, rolling hills."
Both varsity and junior varsity girls ran a four-kilometer course. Sophomores Brenlynn Albers and Arely Maldonado led the girls team, finishing within a second of each other.
The boys varsity and junior varsity teams ran five kilometers. Freshman Taevian Maupin led Hays with a time of 18:52.70
"I think as a team we did okay for being injured most of the year, and hopefully, we can come back next year healthy and beat some teams," McCullough said.
The full results are listed below:
Girls
V – sophomore Brenlynn Albers – 12th (16:54.50)
V – sophomore Arely Maldonado – 13th (16:54.60)
V – junior Amelia Jaeger – 15th (17:12.40)
V – junior Avery Winter – 20th (17:41.50)
V – sophomore Brynn Kinderknecht – 21st (17:46.20)
V – junior Nayeli Cisneros – 24th (17:58.90)
V – sophomore Julia Zadina – 30th (18:34.40)
V – junior Jaycine Watson – 31st (18:41.30)
V – sophomore Addison Otte – 36th (19:22.20)
JV – senior Rachel Windholz – 14th (19:48.60)
JV – freshman Taylor Sterling – 18th (20:34.50)
JV – freshman Ava Ruiz – 23rd (21:09.10)
JV – senior Lainey Hardman – 24th (21:16.70)
JV – sophomore Lexi Burton – 35th (22:23.10)
JV – senior Aaliyah Neuburger – 38th (23:03.20)
Boys
V – freshman Taevian Maupin – 12th (18:52.70)
V – sophomore Tacoma Augustine – 23rd (19:59.60)
V – sophomore Elijah McCullough – 26th (20:04.00)
V – senior Matthew Dempsey – 29th (20:18.70)
V – senior Brayden Hines – 30th (20:23.90)
V – sophomore Carter Muehleisen – 32nd (20:55.30)
V – senior Landon Viegra – 34th (21:13.00)
JV – freshman Carson Avery – 14th (21:09.70)
JV – junior Daimon Lang – 17th (21:20.10)
JV – sophomore Gavin Flaska – 21st (21:47.10)
JV – sophomore Everett McClure – 26th (22:13.80)
JV – sophomore Xavier Ellis – 29th (22:42.70)
JV – sophomore Riley Atkerson – 32nd (22:51.60)
JV – junior Logan Chance – 35th (22:58.70)
JV – sophomore Corben Avery – 36th (23:10.30)
JV – freshman Landon Hardman – 47th (25:03.10)