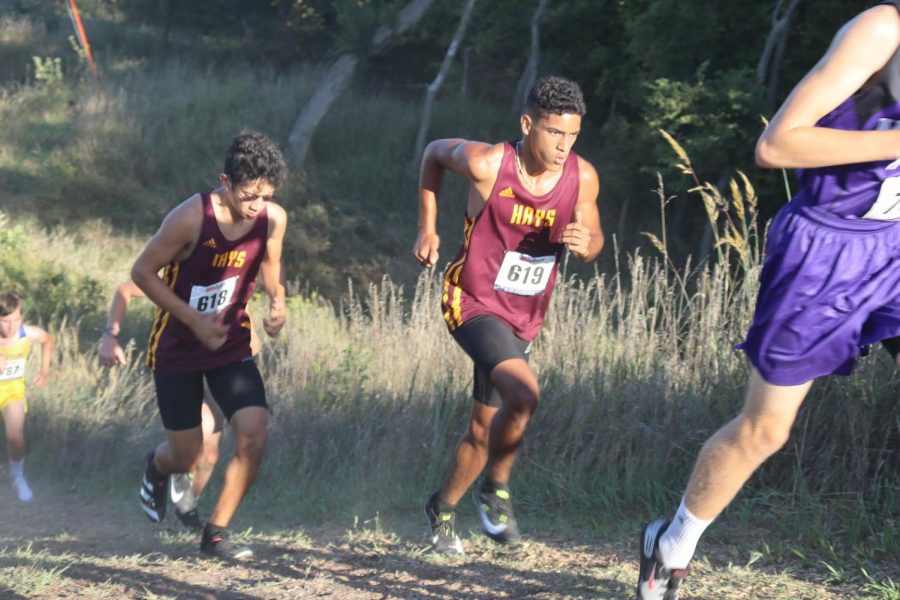 Julia Zadina
On Saturday, Oct. 9, the cross country team traveled to Salina for their last competition before the Western Athletic Conference meet. Although the meet was still held at Bill Burk Park like previous years, athletes ran on a different course.
"The new course went by a lot faster than I thought it would without the oversized mountain," sophomore Brynn Kinderknecht said.
Led by sophomore Arely Maldonado, the girls team placed fourth overall. Maldonado and sophomore Brenlynn Albers both earned medals in the varsity race.
"I feel like I did well," Kinderknecht said. "I believe the team did excellent!"
The boys team placed ninth overall and was led by freshman Taevian Maupin with a time of 18:33:00.
The full results are listed below:
Girls
V – sophomore Arely Maldonado – 10th (20:35:00)
V – sophomore Brenlynn Albers – 14th (21:05:00)
V – junior Amelia Jaeger – 16th (21:15:00)
V – sophomore Brynn Kinderknecht – 26th (21:54:00)
V – junior Avery Winter – 27th (21:54:00)
V – junior Nayeli Cisneros – 33rd (22:19:00)
JV – junior Jaycine Watson – second (23:03:00)
JV – sophomore Addison Otte – eighth (24:27:00)
JV – senior Rachel Windholz – 22nd (25:34:00)
JV – freshman Ava Ruiz – 23rd (25:36:00)
JV – senior Lainey Hardman – 24th (25:41:00)
JV – freshman Taylor Sterling – 33rd (26:34:00)
JV – freshman Marisa Wasinger – 46th (29:41:00)
JV – senior Aaliyah Neuburger – 62nd (32:09:00)
Boys
V – freshman Taevian Maupin – 35th (18:33:00)
V – sophomore Ty Dempsey – 39th (18:43:00)
V – senior Matthew Dempsey – 44th (18:58:00)
V – senior Brayden Hines – 21st (19:08:00)
V – sophomore Tacoma Augustine – 63rd (20:27:00)
JV – sophomore Elijah McCollough – 12th (19:35:00)
JV – sophomore Carter Muehleisen – 34th (20:34:00)
JV – sophomore Corben Avery – 42nd (21:08:00)
JV – sophomore Gavin Flaska – 44th (21:17:00)
JV – junior Daimon Lang – 60th (21:28:00)
JV – junior Logan Chance – 60th (21:57:00)
JV – sophomore Xavier Ellis – 67th (22:29:00)
JV – senior Ryan Schuckman – 69th (22:36:00)
JV – freshman Carson Avery – 89th (24:01:00)