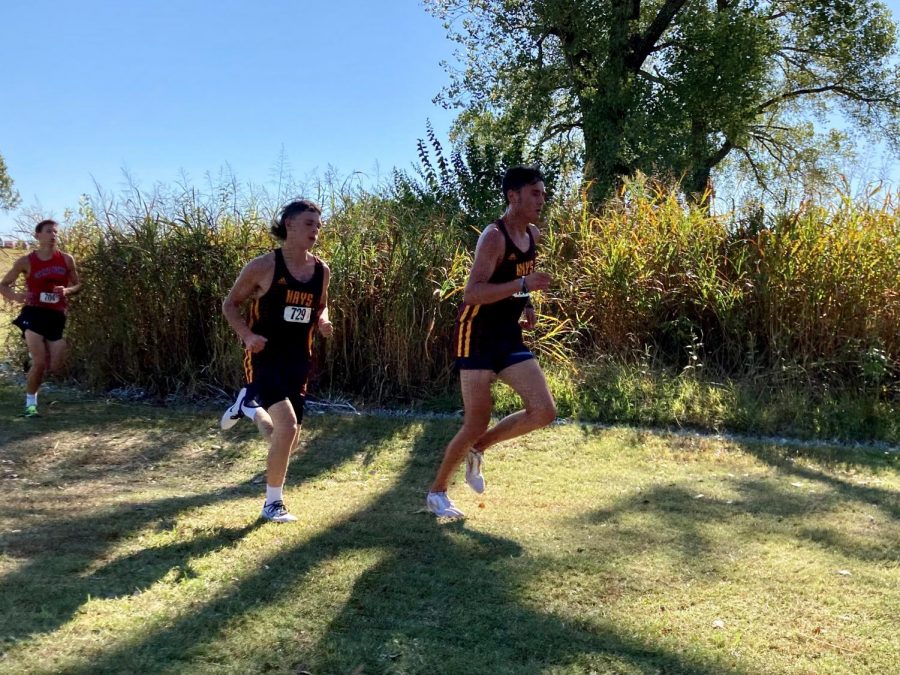 Ryan Schuckman
On Sept. 25, the cross country team competed in the Allie-T Invitational at Augusta – the same course that Wichita State University runs. Fifteen schools raced, but only 13 schools had enough athletes to rank in the team scores.
The girls team placed 10th overall and was led by sophomore Arely Maldonado. Maldonado earned a medal after placing 20th in the varsity race, and junior Nayeli Cisneros earned a medal after placing fifth in the junior varsity race.
"I surprised myself a bit there," Cisneros said. "I'm proud of myself for being able to meet one of my goals for the season. I want to keep improving every meet I attend."
The boys team placed 11th overall and was led by freshman Taevian Maupin.
"Saturday was a challenging course," Cisneros said. "It was nice being able to run on the state course. Now we know what to expect."
The full results are listed below:
Girls
V – sophomore Arely Maldonado – 20th (20:44:00)
V – junior Avery Winter – 57th (22:21:00)
V – sophomore Brynn Kinderknecht – 60th (22:30:00)
V – sophomore Julia Zadina – 61st (22:30:00)
V – sophomore Mika Zimmerman – 64th (22:56:00)
V – junior Jaycine Watson – 66th (23:04:00)
V – junior Amelia Jaeger – DNF
JV – junior Nayeli Cisneros – fifth (22:24:00)
JV – sophomore Addison Otte – 21st (24:03:00)
JV – senior Lainey Hardman – 27th (25:48:00)
JV – freshman Marisa Wasinger – 33rd (26:14:00)
JV – senior Rachel Windholz – 34th (26:16:00)
JV – freshman Taylor Sterling – 38th (27:37:00)
JV – sophomore Lexi Burton – 41st (28:03:00)
JV – freshman Ava Ruiz – 42nd (28:52:00)
JV – junior Nia Kaiser – 43rd (29:12:00)
Boys
V – freshman Taevian Maupin – 48th (18:18:00)
V – sophomore Leo Hernandez – 50th (18:21:00)
V – sophomore Ty Dempsey – 72nd (19:19:00)
V – senior Matthew Dempsey – 78th (19:39:00)
V – senior Landon Viegra – 81st (20:02:00)
V – senior Brayden Hines – 83rd (20:07:00)
V – sophomore Elijah McCollough – DNF
JV – sophomore Tacoma Augustine – 33rd (20:28:00)
JV – sophomore Carter Muehleisen – 35th (20:49:00)
JV – junior Daimon Lang – 39th (21:05:00)
JV – sophomore Corben Avery – 41st (21:34:00)
JV – sophomore Gavin Flaska – 43rd (21:48:00)
JV – freshman Carson Avery – 45th (21:55:00)
JV – sophomore Xavier Ellis – 50th (22:46:00)
JV – senior Ryan Schuckman – 51st (22:48:00)
JV – sophomore Riley Atkerson – 53rd (22:54:00)
JV – junior Logan Chance – 54th (22:56:00)
JV – freshman Landon Hardman – 58th (25:21:00)
22rschuckman@usd489.com