Boys basketball starts season with 3-0 winning streak
The Indian boys basketball team had everything to prove in its first week.
Last season, the Indians were a part of the "Forever Four" team that was one of the four remaining teams in the 5A state tournament who was left without an answer after cancellation of the end of the 2020 basketball season. Also, the preseason coaches poll left Hays High out of the 5A rankings, even after the rankings skipped the fifth spot, then later renounced the rankings by putting in Kapaun Mt. Carmel into the open spot.
Head coach Alex Hutchins, in his second year, returned four of the five starters from last season. Junior Jace Linenberger, the new starter on the team, is no stranger to playing in big moments. As a sophomore, Linenberger saw favorable moments in the sub-state game versus Great Bend and the state game versus Basehor Lindwood.
The Indians started this year on the hardwood at home taking care of business during the Hays City Shootout from Dec. 3-5. The Indians were high flying, scoring more than 70 points in each of their three games against Hugoton, Life Prep Academy and Thomas More Prep.
In the first match-up of the year, the Indians played a scrappy Hugoton team. The Indians used a 18-2 run to propel them to the end of the first quarter with a 22-5 lead. The third quarter was a little sloppy, allowing the Eagles to cut the Indians' lead, but Hays High ended up winning, 77-55. The front court of the Indians made a living in the paint, scoring new career highs, as Linenberger scored 21 points, and Senior Dalyn Schwarz scored 20 points and earned 13 rebounds.
The Indians moved on to play Life Prep the following night and the fire would not handle the offense of the Indians. The Indians ended up winning the game, 71-39.
The battle of the two Hays teams in Hays High and TMP looked ugly in the first half, as both teams played aggressively. The Indians had a 21-10 lead after the first quarter, then the Monarchs had a controversial call that found the Indians only winning by three points at half. In the second half, the Indians would not let the Monarchs get any closer. The Indians ended up winning the game against their cross-town rival, 70-42. Indians had another great game from Linenberger, who scored a new career high of 24 points.
The Indians ended the weekend 3-0 and claimed the Gerald Mitchell Hays City Shootout trophy for the first time since 2016.
Hays High will travel to Hoisington to take on the 3A Cardinals on Dec. 15.
                                                                                                                                                                    21csanders@usd489.com
About the Contributor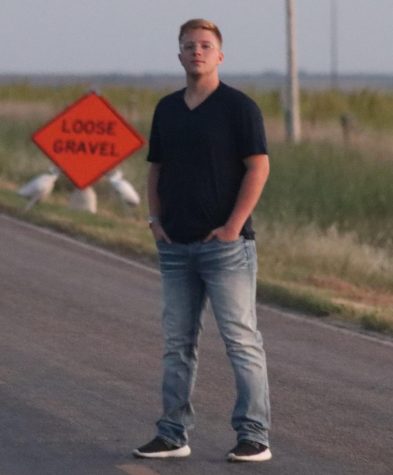 Cayden Sanders, Staff Reporter
Cayden is a senior this year, and this is his first year in newspaper. He is also involved in FFA. He loves to throw darts and take sports photography...