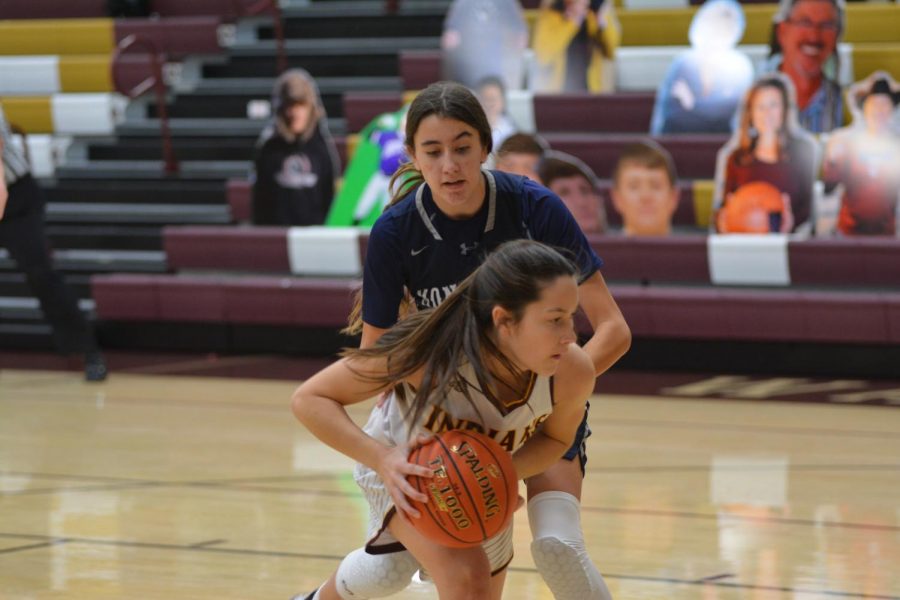 Brenna Schwien
The girls basketball team started their season with three consecutive home games. These games were a part of the 38th Gerald Mitchell Hays City Shootout, but the atmosphere was different with no fans in the gym.
They kicked off their season on Dec. 3 when they played Hugoton and lost, 47-26.
The lady Indians kept the score close throughout the first half, but eventually, they lost their spark and found themselves trailing for the rest of the game.
Sophomore Morgan Engel led her team with 10 points in her varsity debut, which was also a career high for Engel.
On Dec. 4, they took on Life Prep and lost, 46-30.
The game started with five turnovers on their first six possessions, but the Indians went into the locker room leading 23-19 at halftime.
There was an overwhelming number of turnovers during the game against Life Prep, with 39 in total.
On Dec. 5, the lady Indians played Thomas More Prep. in the last game of the tournament and lost, 44-31.
The Indians were behind by only one point going into halftime, but a third quarter shooting drought eventually led the Indians to falling behind for the rest of the game.
The lady Indians move to 0-3 on the season and are off until Dec. 15 when they travel to Hoisington.
22bschwien@usd489.com