Swim team places sixth at Wichita Southeast, junior Isaac Smith sets new school record
Boys swimmers competed at Wichita Southeast on Dec. 8. The Wichita Southeast invitational hosted swimmers from nine teams. Teams included: Dodge City, Wichita Southeast, Wichita Heights, Liberal, Wichita West, Hays, Wichita South, Wichita Trinity Academy and the Classical School of Wichita.
Junior Isaac Smith broke the school record in the 100 yard breaststroke. He swam a 1:05.61, breaking the record set by P.J. Wagner in 1994
"It's pretty alright, I guess," Smith said.
The team placed sixth overall. As was the case with the last meet, the team had missing swimmers. The meet was scheduled at the same time as the Kansas Music Educators Association District Honors Choir and Band. Four swimmers had to miss the meet for that.
200 Medley Relay – N/A
200 Freestyle – Jacob Miller (2:46.25) 10th
200 Individual Medley – N/A
50 Freestyle – Isaac Smith (23.38) 1st, Dillon Gray (32.83) 23rd, Treyton Schumacher (33.53), Tate Kaiser (36.32)
100 Butterfly – N/A
100 Freestyle – Marshall Perryman (1:03.59) 8th, Alvaro Esnaola (1:11.42) 15th, Adam King (1:11.32)
500 Freestyle – N/A
200 Freestyle Relay – Alvaro Esnaola, Skylar Zimmerman, Jacob Miller, Matt Goodale (2:16.48)
100 Backstroke – Marshall Perryman (1:13.92) 3rd, Matt Goodale (1:22.49) 9th
100 Breaststroke – Isaac Smith (1:05.61) 2nd, Andrew Prine (1:33.39) 14th, Chris Goodale (DQ)
400 Freestyle Relay – Adam King, Skylar Zimmerman, Jacob Miller, Matt Goodale (4:43.94) 4th, Chris Goodale, Treyton Schumacher, Tate Kaiser, Andrew Prine (5:29.46)
19sperryman@usd489.com
About the Writer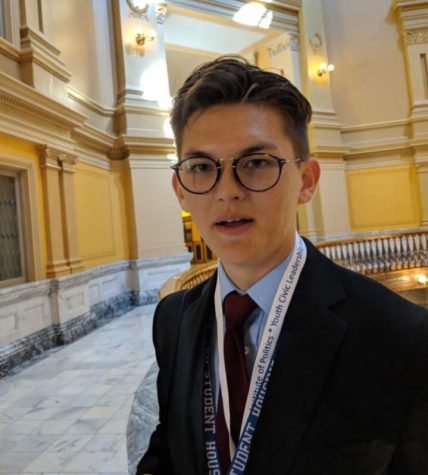 Scout Perryman, Staff Reporter/Cartoonist
Scout Perryman is a big, bad, senior. He is only doing newspaper because he would get yelled at by Isabelle if he did not. Scout's eyebrows are always...