Trump's mention of religion after shooting futile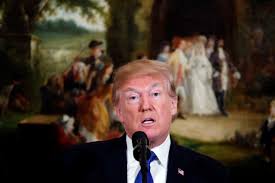 Hang on for a minute...we're trying to find some more stories you might like.
President Donald J. Trump addressed a shocked nation during his first stop in Tokyo after a gunman killed 25 people and injured 20 others at a Baptist church in Sutherland Springs, Texas on Nov. 6.
Trump claimed at the end of his speech that "all of America is praying to God to help the wounded and the families we will never leave their side."
Not everyone in America is doing this. According to a Pew Research Center research study, about 23 percent of Americans are agnostic, atheist or unreligious. Even though America has had a stronghold on Christianity for the last 200-plus years and was founded on certain Christian principles, people are changing their religion.  The demographic is changing. Trump shouldn't just assume people practice the same religion just because this happened in a place of worship.
Trump should never have said these words. Even though his conservative agenda calls a stop to political correctness, there is a time when it should be used. Trump and his cabinet should not have a bias towards religion during a time when tragedy strikes, especially if it happens in a place of worship.
Even though this is a tragedy, religion isn't going to solve any problems by praying for the victims and hoping the wounded get better. Only the government has the power to redact and recall certain laws and amendments in order to prevent a tragedy like this from happening. Mentioning of religion should be kept out of the government.
19ischindler@usd489.com