Blood drive only accepting in-building donations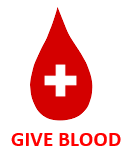 The Hays High Red Cross Club will be changing the way the spring blood drive on Thursday, March the 4th is done this year due to COVID-19 restrictions.
One of the major changes this year is the absence of outside donors.
"All donations have to come from the students and staff in the building, which means we might have less units collected than normal," sponsor Jayme Goetz said. "I'm hoping kids are going to step up to the plate and help."
During the blood drive, there will also be many more safety precautions in play to keep donors safe and healthy. The Red Cross Club will be cleaning the beds between each donor to reduce infection risk.
"I don't think there's going to be any risk, as long as kids wear their masks and wash their hands," Goetz said. "When it comes to actually donating, they said there will be nothing different about the process. They will just be more cautious.
The Blood drive will need more students and teachers to donate this year due to the restrictions, but it will still be for a good cause. You can talk to Mrs. Goetz or sign up in the cafeteria commons to be a part of this year's blood drive.