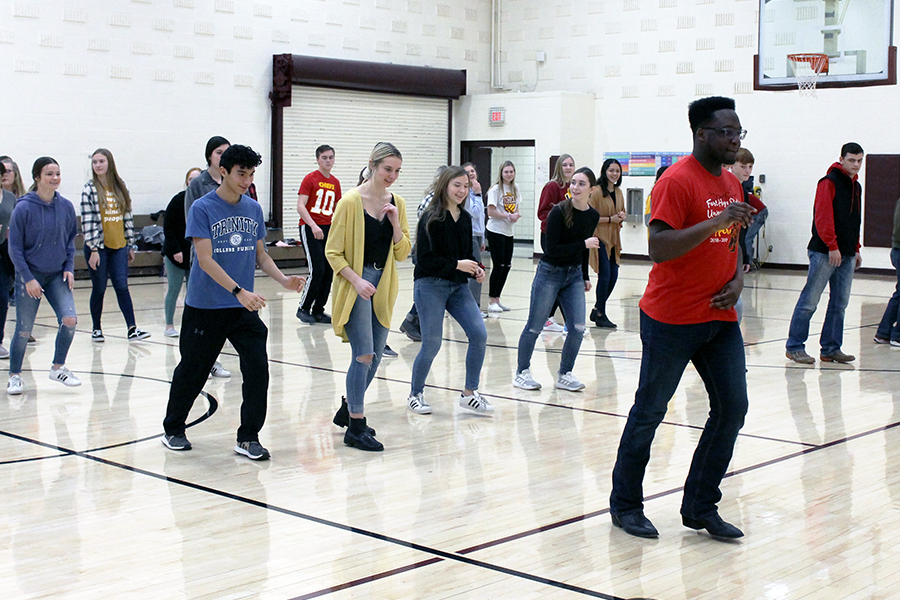 Paige Polifka-Denson
On Feb. 4, more than 30 students attended a swing/line dancing practice in Gym B held by Student Council.
Members of the Fort Hays State University Barn Hoppers came to teach students how to dance for Indian Call.
"The reason why we decided to invite Barn Hoppers is because we have had a couple of comments on why students don't go to Indian Call," StuCo Sponsor Alicia Brungardt said. "One of the reasons why is people don't know how to dance. We thought, if you don't know how to dance, we're going to teach you how to, so when you come you can have some fun. Some of the dances that kids really like and participate in are the line dances and swing dancing, so that's what we targeted for the dance class."
StuCo president senior Maddie Lohmeyer helped organize the whole event.
"It took a few contacts, but [Barn Hoppers] were very willing to come out and work with us," Brungardt said. "We were really excited about it, and we would love to have them come back before Indian Call hits, but there is not a PRIDE Time available to do that."
The Barn Hoppers also offer free line dancing lessons. All details about when and where are on their Facebook page at https://tigerlink.fhsu.edu/organization/barn_hoppers.
"The best part of [the dance practice] was watching the kids who participated have fun," Brungardt said.
22nvuong@usd489,com