Junior Caitlin Leiker wins scholarship through the Veterans of Foreign Wars
Junior Caitlin Leiker won a scholarship from the Veterans of Foreign Wars (VFW) for a speech she wrote about what she believes makes America great. She performed her speech and accepted her scholarship in front of the VFW on Nov. 11 — Veteran's Day.
This scholarship contest was one of many that the VFW offers every year. They also have the Patriotic Art Contest and an essay competition for middle school students called Patriot's Pen.
Leiker first heard of this contest from her grandmother, who is the former president of the VFW Ladies' Auxiliary. Her grandmother encouraged her to participate every year, but this was the first time Leiker competed.
"I had compiled a list of random bullet points, but I never thought it would amount to anything, so I put the list away for a while," Leiker said. "One day, I read them for my mom, and she asked me why I hadn't already started writing. So, I gave it a shot."
The requirements of the competition were to write a three- to five-minute speech surrounding the theme "What makes America great?". Along with submitting a printed copy of her speech, Leiker had to record herself reading the essay.
"The theme 'What Makes America Great?' threw me for a loop," Leiker said. "It should be a simple question, but it's not. Asking the question implies that America is great. I'm not saying that it's not, but our country is run by humans. It's not perfect. Painting some glorious, shining picture of America is simply unrealistic because it doesn't apply to everyone. I have food in my stomach and a roof over my head, and not every kid in this country is blessed with things like that."
Leiker said she believes that what makes America great is that people have the freedom to protest and how they express their opinion determines if their proposition will be accepted.
"I felt relieved and honestly surprised that my speech was received so well," Leiker said. "I wrote it from a non-traditional viewpoint, so I was prepared to defend my stance if necessary."
Leiker said she felt proud of the content of her speech and was honored to be able to read it aloud.
"I used this competition as an outlet to respectfully and eloquently express how I feel about our country, and I encourage other students to do the same," Leiker said. "I promise it will pay off in the end."
21abrooks@usd489.com
About the Contributor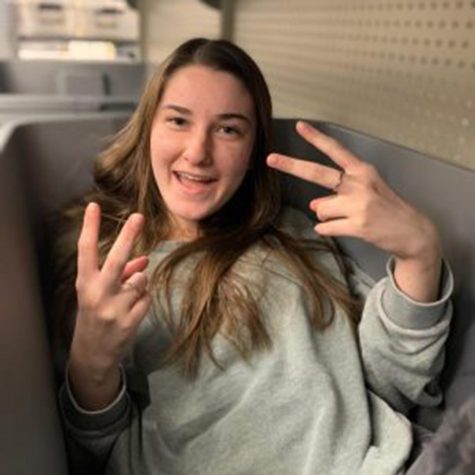 Allison Brooks, Multimedia Editor
Allison Brooks is a junior, and this is her third year in newspaper. Outside of this class, she is involved in Tribe Broadcasting, tennis, Scholars Bowl...