Chamber Singers to perform at Matlock's studio for Winter Art Walk
Hang on for a minute...we're trying to find some more stories you might like.
The Chamber Singers will be performing from 7 p.m. to 9 p.m. on Dec. 7 at 809 Studio for this year's Winter Art Walk.
Former vocal director Johnny Matlock said that this is the first public event they have hosted at 809.
The idea of the Chamber Singers performing at Matlock's studio came up in a conversation with current vocal director Alex Underwood.
"We thought it would be a great way to celebrate the new studio and Alex being the new director of Chamber Singers," Matlock said. "We are celebrating Sherri's new position as well by including art work and piano from the FHSU Academy of Mathematics and Science and Kansas Academy of Mathematics and Science."
Along with the Chamber Singers performing as a group, there will be an array of student solos and duets that night.
When junior Hanna Dannar heard that solos and small group musical performances would be accepted into the Winter Art Walk, she immediately wanted to do one with junior Kari Satomi. The pair will perform "Mary Did You Know."
"'Mary Did You Know' has always been one of my favorite songs, and recently I learned that it was one of Hanna's dad's favorite songs, so we are dedicating it to him." Satomi said.
Dannar said that she just wants people to keep the reason for the season in mind.
"Christmas holds a spot in my heart as a time to really reconnect with family and friends," Dannar said. "It's a good time to celebrate life and remember those who have passed on and cannot be with us during the holiday season."
Senior Garrett Cole will be singing "Silent Night," which he said reminds him of happy memories spent with his family.
"One of the reasons why I love this song is because it takes me back to when I used to go to church with my grandparents on Christmas," Cole said. "It makes me recall the beautiful scene of the candlelit church."
While hearing typical Christmas carols can give others that same nostalgic feeling during the holiday season, Underwood said he wanted to steer some of his students away from what's considered "typical" and explore some new territory.
"I think it's important for students to know the commonly known music, but also know the brilliant works that are a little on the fringe," Underwood said. "Doing some of the traditional holiday music is inevitable, so I suppose the lesser known music balances that out for me."
Sophomore Alisara Arial will sing an Audra McDonald version of "How Glory Goes" while senior Carl Rorstrom accompanies her on the cello.
Arial said the song talks about the idea of an afterlife and facing the unknown, mentioning the lyrics "only Heaven knows how glory goes." In a way, the song is also about having hope.
Rorstrom interprets the song as looking to the future and hoping things will play out in the end.
"The character, facing their own expiration, wonders if Heaven will be shining and bright, simple and homelike, or if the world's unknowns will be revealed," Underwood said.
He said the imagery provides "an uplifted-yet-still-unresolved" feeling that fits the holiday season well. While the holidays are often a joyous time for many people, for some it's the first holiday season without a loved one.
"I know that sometimes people who are feeling a little blue might have a negative reaction to the overwhelming talk of hope and joy," Underwood said. "I think it's important to be sensitive to that and to make sure to provide an inclusive space for people who are experiencing the holiday season in many different ways."
21cleiker@usd489.com

About the Contributor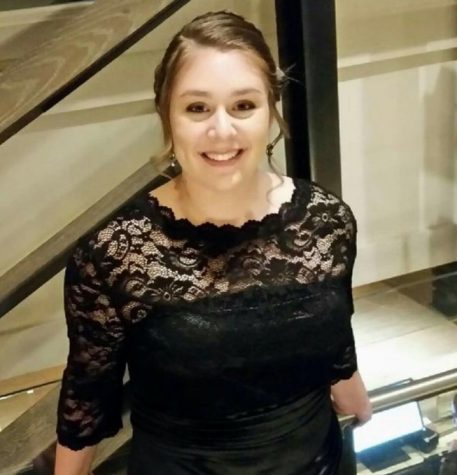 Caitlin Leiker, Staff Reporter
Caitlin Leiker is a sophomore, and this is her first year in newspaper. She is also involved in Chamber Singers, Musical, and Spring Play. Outside of school,...