Jana's Campaign shows art work at downtown art walk
Hang on for a minute...we're trying to find some more stories you might like.
Every year our community holds an art walk downtown inviting all people to come out and look at all the art work the people display. There are two annual art walks every year, one in the spring and one in the winter. Throughout the streets of Hays, there are people of all ages with all sorts of art related talents. The type of art includes dancing, painting, drawing, photography, acting and singing.
People who would like their artwork to be noticed can be placed anywhere along the stores downtown to promote the type of art they are providing. Entry is not limited as long as the artist finds a spot somewhere along where the event is hosted. Every year the streets are flooded with people.
This event not only attracts individual people or small groups, but bigger organizations as well. For example, Jana's Campaign participates in the art work promoting art to spread awareness for relationship abuse. This year Jana's Campaign's Youth Advisory Council (YAC) is taking on the responsibility to organize its spot in the art walk.
The responsibilities taken on by high schoolers and middle schoolers include setting up a space, gathering art work, spreading the word, and getting people to come check out the art work our community has made relating to the topics Jana's Campaign deals with. Jana's Campaign ultimate goal with community events is to spread Jana Mackey's story and getting people to talk about the harsh reality of violence and abuse.
"We try to gather as much art work as possible," Kenia Macias said, YAC member, "and we try to get as many people involved to help spread awareness."
With monthly meetings, YAC has talked about how to get people to create art work and who to ask to make the art work. The students started off discussing with art, forensics, drama teachers, local student dancers, and peers they know of who have talented skills. Flyers are also being created to post all around the community, including schools, student work places and local gas stations. With holidays around the corner, there is more opportunities for YAC to get volunteers to create a form of art to display in Jana's place. More opportunities to spread the word are not only in Hays, but in different towns surrounding Hays.
This winter's artwork is taking on ideas from teenagers, giving Jana's Campaign a broad view of the knowledge and talents students in Hays provide. There's only one requirement to be eligible to participate and provide an artwork for Jana's Campaign and that is to create an art piece. To submit the art contact instructor Sue Ann Tebo, and she can provide a list of student names involved in Jana's Campaign YAC. For more information concerning the art walk you can also directly contact Jana's Campaigns' assistant director, Kaiti Dinges.
                            20dherrera@usd489.com

About the Writer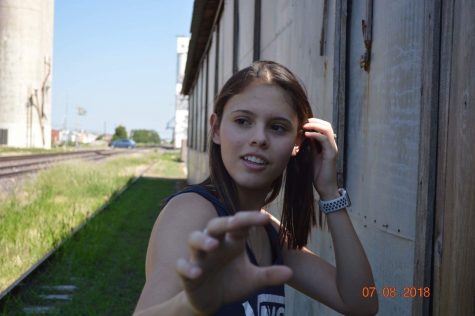 Dellilah Herrera, Sports Reporter
Dellilah Herrera is a junior and this is her first year in newspaper. She is not a photogenic person, as shown above, but can write attention catching...