Indians fall to Red Demons on Homecoming night, king, queen announced
The Indians fell to the Dodge City Red Demons on Friday Oct 5, 34-33. Friday was the Indians homecoming night. Senior Brittani Park was crowned Homecoming queen, and senior Peyton Thorell Homecoming king.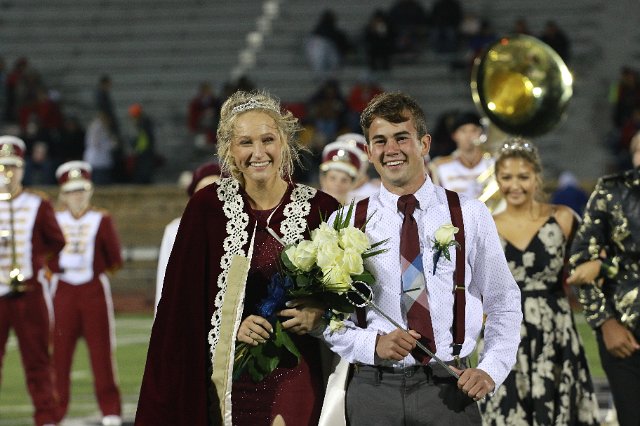 "I was really happy, and I was really surprised because I felt like the girls could have gone any way," Park said. "I was very excited and happy, and I was very excited Peyton was my king."
Park and Thorell plan to attend the Homecoming crowning next year to crown the new queen and king.
The Indians opened up the game with a seventy-six yard touchdown drive finished off with an eight yard touchdown pass to junior Hayden Brown from senior Palmer Hutchison. Neither team would score for the rest of the first quarter.
Right after the start of the second quarter, the Indians would score to take a 13-0 lead. Hutchison would then pick a pass off near midfield and return it for a touchdown. The touchdown combined with the extra point would put the Indians up 20-0 at the half.
At the beginning of the second half, the Red Demons would cut the Indian's lead to 20-14. The Indians then answered, giving themselves at 19 point lead. The Indians would then extend their lead to 33-19. Following that score, the Indians would would remain scoreless as the Red Demons came back to win the game 34-33.
The Indians are now 2-4 and will host Buhler on Oct. 11 for senior night.
19tschiffelbein@usd489.com