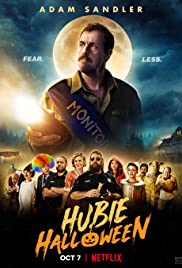 Courtesy photo
The new mystical comedy produced by Happy Madison is a comedic twist to the horrors of Halloween night.
"Hubie Halloween" was released on Oct. 7 on Netflix and to a few theaters that were still open to the public. The main actors in the movie were Adam Sandler, along with Julie Bowen, Karan Brar, Steve Buscemi, Kevin James, Ray Liotta, Tim Meadows and Ben Stiller.
Hubie Dubois, the main character played by Sandler, is a person who has went through many dark experiences caused by a town of bullies. His mother tells him to stand up to the bullies, but Hubie is too afraid to do so. Hubie and his multi-use Thermos never let the words of the others put them down, and he is always kind to the people who torture him, while they are the complete opposite.
Hubie is on the Halloween Safety Crew, which tries to enforce safety on Halloween night. On Halloween night, Hubie is inside of a high school party trying to enforce the rules on the students who are at the party. Mike Mundi (Brar) is a popular kid who takes a part in bullying Hubie.
Mike Mundi runs into the corn field to try and scare Hubie, as he is very easy to scare. Mike Mundi is then taken by an unknown mysterious figure. Throughout the night, many other people who tease Hubie go missing.
Another conflict arises when two people, named Rob Schneider (also known as Walter Lambert) and Richie Hartman, escape from a mental hospital and are suspected to have gone back to the town that Hubie and the others reside in. Rob Schneider moves into the house next to Hubie and boards up the walls and windows.
The mysterious acts and tones continue as more people continue to go missing. Hubie attempts to get help from Sgt. Steve Downey (James) about the disappearances. The officer exclaims his past interferences with the police and decides to not listen to Hubie's claims.
Soon after, Steve Downey starts to believe Hubie and then begins to hunt for the missing people. The story continues to unfold as a serious twist is shown at the end. The two who escaped are thought to have done the crimes but had been taken into the police station already.
In the end, the police force and Hubie, along with the two escapees, find the missing people tied up in Hubie's backyard. To find out why, I urge people to watch the movie for themselves.
The story had a very definite plot that was simple to understand. My rating for the movie is a 7/10. The cast featured in the movie were an amazing combination, and I hope to see them together in another film.