Safe Haven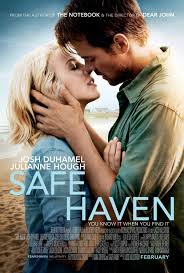 Hang on for a minute...we're trying to find some more stories you might like.
Julianne Hough and Josh Duhamel starred in the recently released film adaptation of Nicholas Sparks' Safe Haven.
Katie (Hough) arrives in the small town of Southport, NC with a dark past and a hidden secret. However, though she tries to shut everybody out, she finds not only friendship, but romance in Alex (Duhamel), a widowed store owner. As she makes friends, comforts Alex's two children and builds a life, she begins to let go of her former life, only for it to catch up with her.
Safe Haven was very well done. The setting of a small town was close to perfect. The buildings, the feeling of home and the coziness of the film location not only fitted the story and helped bring it to life, but added to the familiarity of it. This familiarity drew the audience in closer to the story, making them feel they were part of it. In addition, the cast was well chosen. The performance left me longing for friendships like those in the movie.
Though I enjoyed most of the movie, there was one issue I had with it that seemed to glare me in the face. The story of Alex and Katie seemed to move too quickly. For someone with Katie's past, one would assume it would take a very long time to trust people, let alone have a relationship, again. It seemed that Katie let down her guard almost too fast, not to mention a love scene was shown on the second date. It all seemed to rush by, and before you knew it, the climax had arrived. I would have liked to have seen more of Katie and Alex getting to know each other and falling in love.
All in all, the movie was fantastic. One thing I can say – boys, you had better watch the movie and take a few pointers from Alex. You will like the result.
14awalters@usd489.com