Senior Cooper Eiland plays with band, The Prophets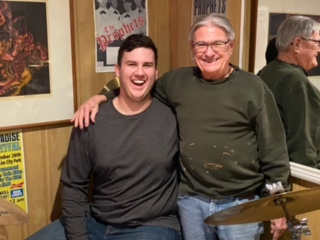 Senior Cooper Eiland recently got to play with The Prophets, a band that was just inducted into the Kansas Music Educators Association (KMEA) Hall of Fame, which was established to honor members of the music education community who have made significant contributions to the growth of music in Kansas.
The Prophets mostly played music ranging from pop to rock; the members were Gene Angel, Dennis Finch, Ron Hendershott and Dan Hoisington. Eiland got this opportunity through his grandparents, who are friends and neighbors of the band members.
"It was really sweet," Eiland said. "Dan Hoisington's studio was awesome. When he let me sit behind his drum set and play, I felt like I, too, could be like that one day."
Eiland has been playing drums for eight years and started taking private lessons in the fifth grade; he also used to play piano.
"I used to play a little bit," Eiland said. "I stopped, though, but I can still play some things on the piano, but not very well."
Eiland said he loves drumming and considers it one of his career options.
"My dream is to be the drummer of a well-known band one day and travel the world," Eiland said. "If that doesn't happen, I would like to have some type of music or drums involved in my profession. I just wouldn't be myself without it."
Some studies have suggested that music can have positive effects on health, such as improving people's moods, reducing their stress, lessening their anxiety, improving their exercise, improving their memory, easing pain and providing comfort, according to www.gethealtystayhealty.com.
Eiland said, for him, he just appreciates music.
"I enjoy music because it takes my mind off the world," Eiland said. "With drums, I can also take out anger or just have fun. I also enjoy challenging myself. Trying to play things in different ways that get harder and harder."
Eliland has been in Hays High's band all four years and said he has really enjoyed it.
"Playing in pep band at the basketball games is one of my favorite moments in band," Eiland said. "Not so much this year because of all the COVID-19 rules, but last year was really fun. Getting hyped up and playing things that push me to my limits is really enjoyable."
23mtippy@usd489.com
Leave a Comment
About the Contributor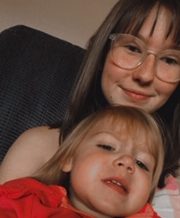 Maysyn Tippy, Entertainment Editor
Maysyn Tippy is a sophomore and second-year reporter for The Guidon. In her free time, Maysyn loves spending time with her amazing friends and family....