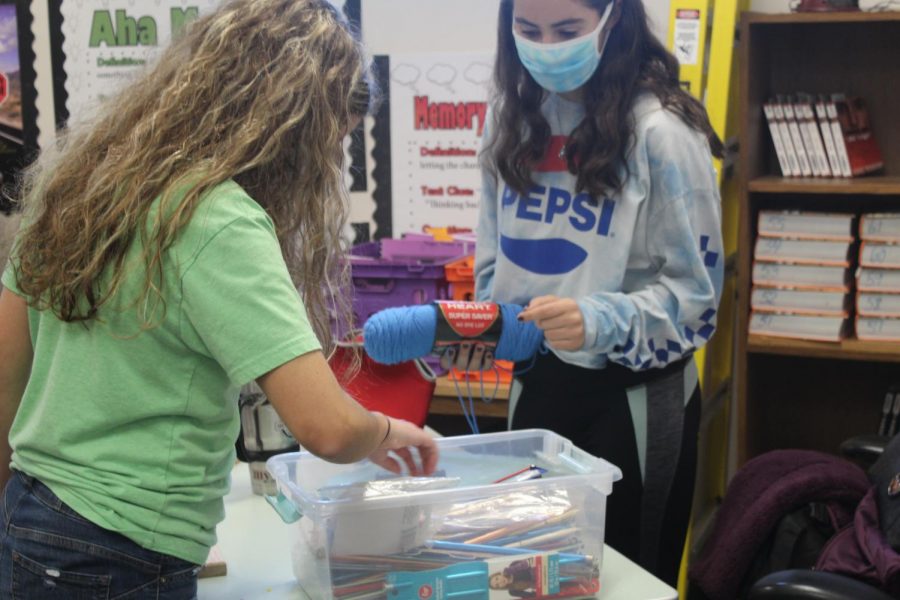 Andrea TinocoRamirez
Hays High's Knitting Club had its first meeting Monday, Nov. 2, in which members discussed what they would be doing this year in the club and started learning how to knit.
"My favorite part about knitting is just being able to relax and do something that may turn into a gift for someone else," freshman Brynn Kinderknecht said. "If I mess up a lot, then it's not relaxing at all."
A lot of students in the club agree that knitting can be relaxing.
"My favorite part about knitting is that I can relax, watch movies and knit," sophomore Rylie Fairbank said. "It's really fun to do, and it looks really pretty."
While the club and the projects can be relaxing, other students are looking forward to completing different projects like mittens, washcloths, blankets, or many others while in the club.
"My favorite part about knitting would be the outcome of the item I was knitting," junior Rachel Windholz said. "It is a really rewarding thing to do – knit and donate to people in need. I enjoy knitting very much and love everything about it."
Returning Knitting Club members are ready to learn new skills and to make new items.
"My favorite part about knitting is being able to create a useful object out of simple yarn," senior Emily Kreutzer said. "This year, [senior] Audrey Rymer and I plan to make mittens, hats, scarfs and maybe blankets to donate to the children's boxes for Christmas so they have warm apparel for the cold weather."
Rymer agreed with Kreutzer.
"My favorite thing about Knitting Club is getting to teach other people how to knit," Rymer said. "This year, I am hoping to challenge myself with my knitting projects. So, I am excited to learn how to make new things."
23mtippy@usd489.com