Chamber Singers to perform Pulitzer Prize-winning Little Match Girl Passion
The Chamber Singers will perform David Lang's Pulitzer Prize-winning work, The Little Match Girl Passion, at 2 p.m. on March 30 at St. Joseph's Church.
The 35 minute long Passion, inspired by Danish author Hans Christian Anderson, is a combination of acapella and simple percussion instruments that tells the tale of a poverty-stricken little girl who tries to sell matches on the street on New Year's Eve.
When no one buys her matches, she's forced to light them to stay warm. With each match that the little girl strikes, she sees a beautiful vision. One vision is of her dead grandmother who takes the little girl's soul to heaven when she freezes to death.
Hays will be the first high school to ever perform this piece, and vocal director Alex Underwood said it's not like anything the Chamber Singers have done in the past, and that the level of focus required to overcome this task has made them a better ensemble.
"I was expecting to have these grueling rehearsals with the Chamber Singers where I would have to really break things down and do the same thing over and over," Underwood said. "I didn't do that nearly as much as I thought I was going to. I think it's challenged them all in a way that makes them really engaged in the process."
In an interview with The G Channel, Lang said he makes his music so difficult and complex because he's always questioned why we have live performances. He said when you live in a world where you can go on Spotify and listen to a flawless recording of a song in the comfort of your own home, why would you ever want to leave?
Lang said what makes a live performance so important is the sense of community and getting to see the human struggle to achieve something that might lie beyond a person's limitations.
"I remember being in concerts where the performer did something on stage and everyone in the audience gasped at the same time because it was so beautiful, and those things can't happen by yourself," Lang said.
Underwood said it's refreshing to work on a piece of music that has so much depth and meaning behind it that you're still discovering nuances that you missed, even after investing countless hours of rehearsal.
"(The Passion) is something that's so complex, and it's something that's serving a higher purpose all the time," Underwood said. "I think working on things like that is really rewarding, and I enjoy watching the students get to enjoy that process too."
Underwood said that no matter who you are, where you come from, or what you believe, he hopes this piece gives everyone involved the chance to reflect on their lives and question why we're here.
"Part of being a human is learning empathy," Underwood said. "I think it's our job as artists and musicians to present works that make people think in a different way. Art affirms your own world, and it challenges you to see the new world. If those two things are left intact, then the artist has done their job really well."
21cleiker@usd489.com
About the Contributor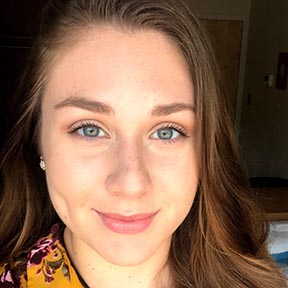 Caitlin Leiker, Copy Editor
Caitlin Leiker is a junior, and this is her second year in newspaper. She is involved in Chamber Singers, Musical, Spring Play, swimming, Leadership Team...