13 questions with senior Tanner Eiland
Senior Tanner Eiland never imagined that he would live in a small western Kansas town called hays, but when he moved here in 4th grade from Texas he realized it was always meant to be.
1.What were your thoughts on being in Hays when you moved here versus now?
"my cousins were moving to Texas as I was moving to Kansas so that was pretty disappointing. I probably thought that at the time, but now i'm just like 'Hays! WOOH! FRIENDS! YAY!'"
2.How many places have you lived
"two, Plano, Texas and Hays, Kansas."
3.Which was your favorite?
"I don't know, Hays for the people and the Hays High atmosphere."
4.What are your hobbies?
"Music in general, like being in Chamber Singers, and musical, playing the guitar and tap dancing. Gaming I play Hearthstone, Overwatch, CS:GO, Halo, Mario Kart 64, etc."
5.Do you take lessons?
"I've never taken singing lessons, I've taken guitar lessons from three different teachers but currently I am not taking guitar lessons. I have take tap lessons for seven years from Becky's School of Dance, from Becky herself."
6.What's your favorite game, and why?
"Hearthstone, because it is fast, simple, strategic and don't have to worry about toxic players, also the new expansion just came out."
7.What roles have you had in Musical?
"I was an Islander and a double for the prince in Once on this Island. I was Paul Hankel in Bye Bye Birdie, one of the Teens. I was King Louis the XI nicknamed 'The Prudent' and if you really want to get technical i was also a gypsy, nobleman and monk."
8.Where do you plan on going to college? and what is your dream college?
"I plan on going to FHSU for the first to years at least, and I don't know where after that. I would have loved to have studied abroad for college."
9.What degree are you planning on pursuing?
"I plan on going into Video Game Design, Computer Science, or maybe pursue an engineering degree of some sort."
10.Star Wars or Star Trek and why?
"Star Wars because the cannon makes more sense. Lightsabers are cool, and Star Wars doesn't have weird time travel stuff."
11.What was it like taking a course at the college this year?
"It was different. There was a lot more freedom, because teachers don't really care if you turn stuff in. It's your job to turn stuff in. If you don't turn stuff in it's your fault. That being said it's much more laid back and I enjoy it."
12.Science or Math?
"you're making me choose between science and math? come on, uh, science because you can actually freeze stuff with lasers it's cool."
13.what's your ultimate goal in life?
"One day get married, have kids, to be known as an overall nice guy that's smart, works hard and does his job well."
About the Contributors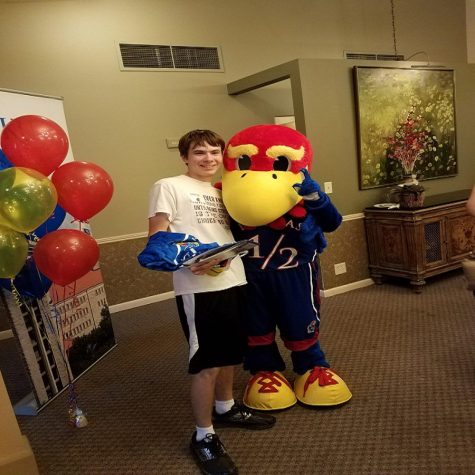 Dawson Rooney, Staff Reporter
This is Dawson Rooney. He is a senior and this is his first year in newspaper. Outside of newspaper he is involved in Orchestra, Chamber Singers, Web Team,...