13 questions with freshman Andrew Duke
Freshman Andrew Duke is the youngest student in most of his classes. He made the switch from going between the middle school and high school every day to being solely at the high school this year.
At what age did you start taking high school classes?
"I would have been 12."
Why did you start taking classes above your grade?
"Because my teachers and I agreed that the classes at my grade weren't providing a challenge and what is the point of school if it doesn't provide a challenge."
What do you plan to do in the future?
"Most likely law or professor of mathematics."
How old will you be when you have enough credits to graduate?
"Around 16 but I don't plan to graduate that early."
Do you plan on doing KAMS?
"No, not likely."
What math, science, and English classes are you currently taking?
"FST for math, Advanced Physics, and Honors English II."
How old are you?
"14 years old."
Do you plan to graduate ahead of time?
"No, probably not."
How does it feel to be the youngest of some of your classes?
"Pretty normal, half of the time the people in the class don't realize and the other half don't care."
How is the transition from the middle school to the high school full time?
"Easier because I didn't have to bus back and forth all the time."
What do people think about you being so far ahead of the curve?
"Some are impressed and others are unimpressed."
Do you enjoy taking advanced classes?
"Yeah because they provide the challenge, it is fun to have something that stretches your brain."
What is your favorite class?
"If I have to pick just one it would be Advanced Physics."
About the Contributors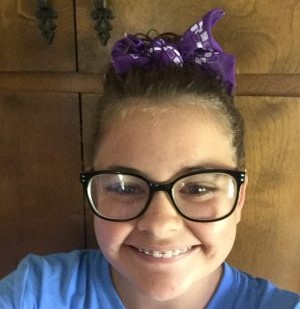 Hanna Dannar, Staff Reporter
Hanna Dannar is a sophomore, and this is her first year in Newspaper. During the school year, she is also involved with vocal, Musical, and Girls Swimming....